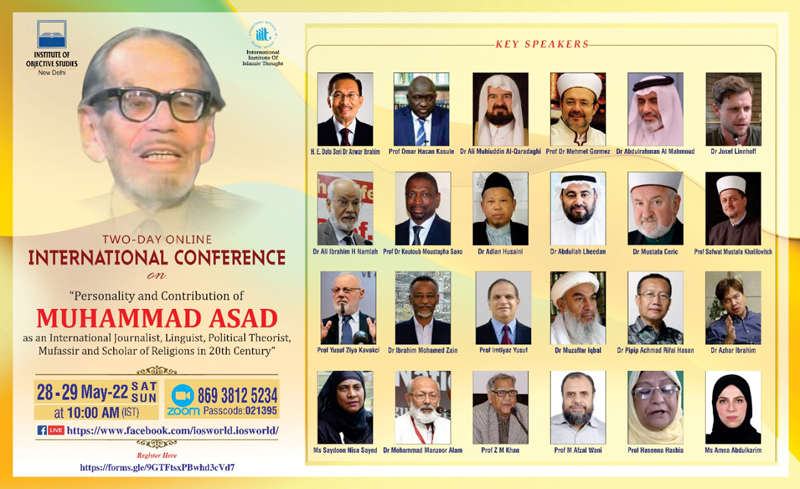 Link for both days:

https://us02web.zoom.us/j/86938125234?pwd=RQ0XUsb4PLwg8r_60NFnz7TNfrrvSL.1

Webinar ID: 869 3812 5234

Passcode: 021395

---------------------------------------------------
CONFERENCE AT A GLANCE

Late Muhammad Asad, the neglected thinker was born at the end of the nineteenth century, on 2nd July 1900, in Austria, in the home of a Jew Lawyer, Akiva Weiess. By choice he had opted to be a lawyer, though he was coming from a well-established lineage of Jewish Rabbis. Asad was named Leopold Weiss. He received traditional primary education and education in religion, studying textual versions of the religious scripts of Talmud and the related commentaries. As agifted child of the family, Asad could master eloquence in Hebrew and Aramaic languages besides his own native German and Polish languages just at the age of 13, at the time when the First World War was to get in, in 1914, with senseless death knell to 6 millions of people and leaving many more millions in distress and devastation. At that human juncture of colosal loss of senses by misguided people in power pushing humanity into crisis, Asad left the school and joined Austrian Army without the knowledge of his family. He adopted a false name to cover the information of his joining army from his father, though he got back to join his family when the fact was disclosed.


Asad could stir up as the one of the most cogent youths with journalistic skills responding logically to unconvincing and demotivating social and political environment of Europe. He travelled and tread into the quest for his life which he himself was not knowing as to which shape that could take. While in Mandatory Palestine, which was a territorial arrangement made by occupiers between 1920 and 1948 in Palestine as per the resolutions of the League of Nations, he had his own reservations about the Zionist Movement and used to vehemently question its leaders, including Chaim Weizmann. He accepted Sunni Islam in 1926 (in Berlin); adopted the name "Muhammad Asad, retaining the roots of his earlier name as regards its meaning. He had observed:
"Islam appears to me like a perfect work of architecture. All its parts are harmoniously conceived to complement and support each other; nothing is superfluous and nothing lacking; and the result is a structure of absolute balance and solid composure."
Distinguished, as he is considered, he advocated Ijtihad and rationality in interpreting religious texts. With due concern he dedicated his works 'to people who think' so being best described as "Europe's gift to Islam" and "a mediator between Islam and the West". In 2008, the entrance square to the UN Office in Vienna was named Muhammad Asad Platz in commemoration of his work as a "religious bridge-builder". Vienna's cultural adviser, Andreas Mailath-Pokorny were present at the unveiling of the square. Mailath Pokorny, while talking to the media said:
"There is probably no more appropriate place to honor Muhammad Asad than that in front of the UN-City. Muhammad Asad was a citizen of the world, who was at home, and left his mark, everywhere in the world, especially in the Orient."
Towards the end of his life, Asad moved to Spain and lived there with his third wife, Pola Hamida Asad, an American national of Polish Catholic descent who had also converted to Islam, until his death on 20 February 1992 at the age of 91. He was buried in the Muslim cemetery of Granada in the former Moorish province of Andalusia, Spain.

In its furtherance of the programmes on International Personalities, the Institute of Objective Studies, New Delhi (India) in collaboration with the International Institute of Islamic Thought, USA, will be organising a two-day Online International Conference on the "Personality and Contribution of Muhammad Asad as an International Journalist, Linguist, Political Theorist, Mufassir and Scholar of Religions in 20th Century" on May 28-29, 2022 at New Delhi (India).




A profile of Muhammad Asad in the book titled "100 Great Muslim Leaders of the 20th Century" (p. 279-282), published by Institute of Objective Studies in 2005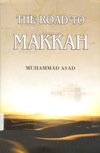 Muhammad Asad's Books

Click here


May 28-29, 2022
Find Details


Registration is FREE, but all delegates should register online through the link given below:

https://forms.gle/nBhYhQFVAMmWnoP67

Link for attending the conference via Zoom will be shared in advance to the delegates who have successfully registered.

CONTACT US
Institute of Objective Studies
162, Joga Bai Main Road, Jamia Nagar
New Delhi –110 025 (India)
Tel. +91-11-26981187/ 26987467/26989253
Mob.: +91 9311226224, 9810131927
E-mail: ios.newdelhi@gmail.com, info@iosworld.org
Website: www.iosworld.org