Mr Mulloli, whose committee has been fighting legal battles against legalisation of homosexuality, said the Delhi High Court judgment decriminalising homosexual acts between consenting adults in the privacy of homes, would create a conducive environment for the global sex industry to step in.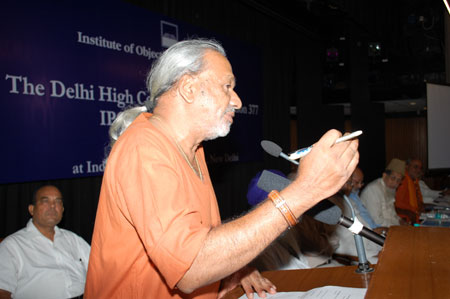 Mr Purshothaman Mulloli, Speaker
He said it was not true that because section 377 (prohibiting unnatural sex with men, women or animals was a 19th century law that had to be "read down". The fact was that it was reviewed twice after 1947.

Mr Mulloli said it was not proper for the Union Law Minister to laud the judgment, because "he is not a party to it". Newspapers went gaga over it even before the judgment, and the UNAIDS congratulated the government for the HC ruling. The presence of US Secretary of State Hilary Clinton and an article in a newspaper around the time of judgment by Dr Karan Singh pleading for gays to be left alone to live in peace showed an elite consensus behind relaxed sexual ethos.

Mr Mulloli said that the Delhi HC, going beyond its area of operation, has asked Parliament in the judgment to enact appropriate laws protecting gay rights.

Out of two commissions that had examined the relevance of Section 377 one supported it, but the later one wanted gay rights. It has gone to the cabinet for consideration.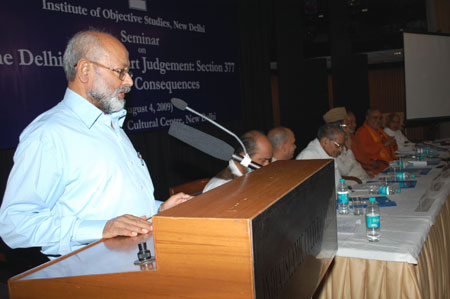 Dr M Manzoor Alam, Speaker
Earlier, in his inaugural address Dr Mohammad Manzoor Alam, Chairman of the Institute of Objective Studies, which had organised the seminar, said that it was a struggle between the values of a small westernised elite and the common people of India. The outcome of the struggle would show "whether we would live by God-given laws, or guided by our basic instincts".

Amir of Jamaat-e-Islami Hind Maulana Jalaluddin Oomeri said in his presidential address that some people had asked him that homosexuality being prohibited in Islam, why did he worry about the Delhi HC judgement as Muslims in any case would not be affected by it.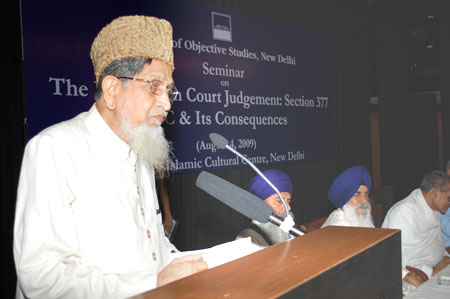 Maulana Jalaluddin Oomeri, Speaker
Maulana Oomeri replied to the question saying he was not concerned for Muslims alone, as "everybody's children are my children. I cannot allow our future generations to be corrupted."

He cautioned the government not to force a law on people that would destroy "India's moral fibre".

Dr. DBS Sehra, president of Delhi unit of Buddhist Society of India, said that homosexuality was an aberration that was against the ethos of the country. It should never be given legal sanction. He said that consent between two adults to indulge in something undesirable should not become the criterion for its being right.

Sikh leader Sardar Jasbir Singh Rode said that sexual needs could not be allowed to be satisfied through same sex intercourse. "Supposing we need money, would we go and loot the nearest bank to fulfill our need?" he asked rhetorically before saying that baser instincts should not be allowed to drive us.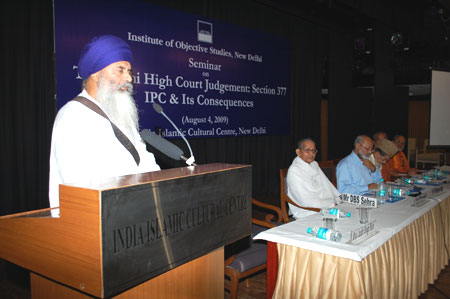 Mr Manjeet Singh Calcutta, Speaker
Sikh leader Manjeet Singh Calcutta called homosexuality a "shameful act", adding that a court was not there to decide moral issues.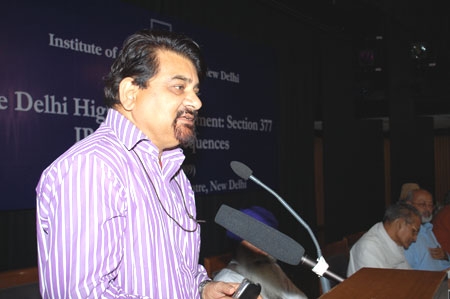 Mr Santosh Bhartiya, Speaker
Journalist and former MP Santosh Bhartiya cautioned that the international sex industry was eyeing India for expanding its business here. It was possible under lax laws only. He urged the nation against opening the gates to such interests.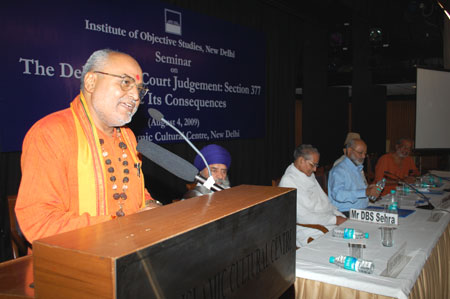 H H Swami Sarvanand Saraswati, Speaker
However, Swami Sarvanand Saraswati of Mahashakti Peeth said that whatever law was there, the common people of India would not be attracted to deviant sexual behaviour.

Father TK John of Vidya Jyoti also opposed sexually deviant behaviour.

The following resolutions were passed at the end of seminar:

1. oppose the judgment and its far-reaching implications for the physical health, emotional security, public morality and spiritual wellbeing of the people of India and its future generations;

2. support legal challenge to the ruling in the Supreme Court of India for the protection of our values;

3. mobilise and educate our society to resist such moral decline; and

4. request the Union government to bring legislation that prevents further erosion of our moral values.